Clint and I had a wonderful time at the USAF Heritage of America Band's concert at the Sandler Center in VA Beach on the 10th. Clint left work early so we could beat the worst of the traffic which worked out perfectly. We enjoyed a nice afternoon together and then ate a good dinner out.
We met some interesting people. The first was an older lady who was going to hear the band for the first time. She was not sure what to expect and was full of questions about the performance. When she received my answer to her inquiry about children, she told me I looked like I was in my early 30's. That is the third time I have received that exact compliment in three weeks. I do not know what is wrong with people's eyes lately, but I like it! After the concert was over, I found her in the lobby and asked her what she thought. She said she loved it very much, and it blessed her.
Clint was able to procure a sky box which we shared with a nice gentleman named David Kennedy, Jr. Mr. Kennedy and I talked about how little respect is shown during our National Anthem. I learned later that he is a performer known as the Tap Dancing Terror of Tidewater. I really enjoyed meeting and talking with the kind and lively man. He is suppose to perform on America's Got Talent soon.
On a trip to the restroom, I met a frustrated mother of an autistic son. Her 24 year old son does well with loud music, so she thought he'd enjoy the band. The live performance agitated him so she had to watch it from the monitor in the hallway. She couldn't figure out the difference. It was very evident she loved her son. I think she just needed someone to listen while she worked through her disappointment at not being about to see the band. Parents sacrifice so much for their children, but special needs parents have to sacrifice so much more.
We enjoyed the holiday concert, and then headed for a moonlit walk on the beach. After that, Clint, in his Elvis voice, serenaded me with "Here Comes Santa Claus!" We were in a festive mood singing Christmas songs together on the ride home. It was a fun evening alone together. We won't get to do anything alone like that again until well after Christmas, so we are glad we had the opportunity.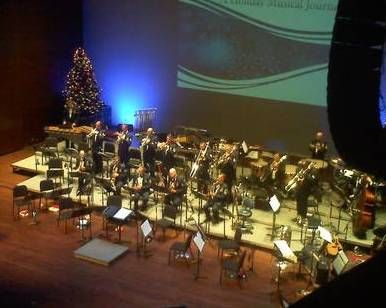 Ferguson Center
We enjoyed the Ferguson Center more for the following reasons: shorter distance, much lighter traffic, easy to find parking, able to park closer to the building, friendliness of the Ferguson Center ushers and staff, the willingness of the facility to open more seating and allowing seating earlier, more seating options with better views, and a larger stage that allowed Christmas decorations and more room for the performers.
Clint and I first learned of the USAF Heritage of America Band years ago through festivities at Yorktown beach which is right across the river from us.

You can check the

schedule

and hear a sampling of the

USAF Heritage of America Band's

music

here.
Day and night they never stop saying: "Holy, holy, holy is the Lord God Almighty, who was, and is, and is to come." Revelation 4:8