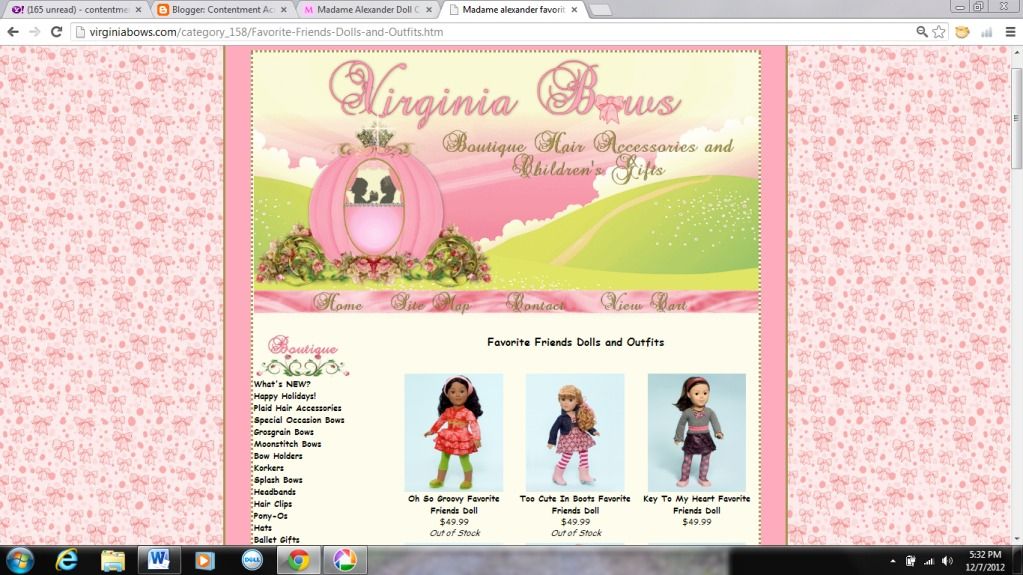 After seeing how little Amanda played with her doll compared to the price, we decided to skip the American Girl brand with Bethany, Emily, and Hannah. All three of our younger girls still wanted 18" dolls they could play with however. Word of mouth and online research showed the less expensive, but higher quality Madame Alexander Favorite Friends line to be a better choice for our girls. They will still be collectible, but won't break the bank quite as much as three American Girl dolls would. I was already familiar with the quality and value of Madame Alexander dolls since I still have the one I was given when I was born.
Decision made, we placed our order for the Turning Heads, Spring Fling Dance, and Too Cute in Boots dolls on Sunday, Dec 2. Our order was fulfilled by Virginia Bows, LLC in Herndon, VA. We received shipping confirmation on Dec 5. Our order was in our hands on Dec 7. We were happy with the quick turnaround and sturdy packaging.
Not only did we receive the Madame Alexander dolls we ordered, but we received a hand written note on the order form thanking us for our order and explaining a very unnoticeable crack in the plastic packaging on one box which they had repaired with clear tape. The cracked packaging is so slight, it does not show up in a photo, but they cared enough to make it right. In fact, we had already inspected our order, put it back in the box BEFORE we saw the note on the order slip. We had missed the crack. We had to unpack it to see what we missed! They wanted us to be happy and went the extra mile and fixed it. It was the last particular doll they had in stock, so they made the repair rather than delay the order and risk our daughter's Christmas gift being late. They were thoughtful and considered our needs and made the best decision for us they could which is the decision we would have made. They also sent THREE free complete outfits for the dolls valued at $25 each. Wow!
Are we pleased? Very much! We sent them a handwritten note thanking them. This is the kind of personalized customer service that is missing in so many places today!
If you are looking for a gift for a child or doll lover, please see Virginia Bows. They have an extensive listing of "wonderful bows and hair accessories, as well as baby and children's clothing, toys, and gifts." They are "family owned and operated, with over 20 years in the bow making business, and proud sponsors of America's cottage industry." All of their products "comply with the current laws and are certified lead free." They have some very darling gifts that will appeal to those with discriminating tastes.