We took advantage of the warm weather at the end of January to clean out the shed beside the house.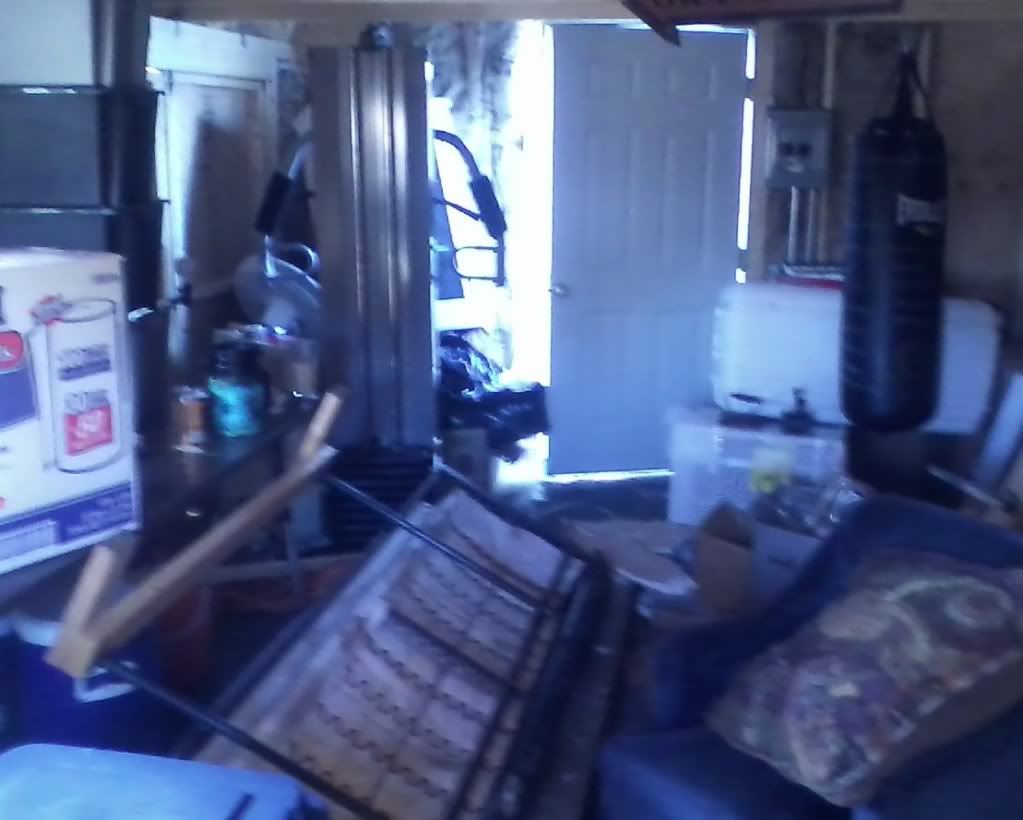 My cell phone's picts aren't that great, but I didn't know if I'd be able to finish the shed in the time I had set aside for it. I wanted to get right to work. I had not been in this building in a month or so. Someone had piled seven bags of trash inside which blocked the door. A cat had been left inside for a day or two. Things had been spilled all over the floor. We took out 25 loads of Clint's items to his shed and wood storage areas. Someone had tossed Christmas decorations on the pile rather than put them in the loft. Stuff was literally thrown any where and every where. It was a huge mess!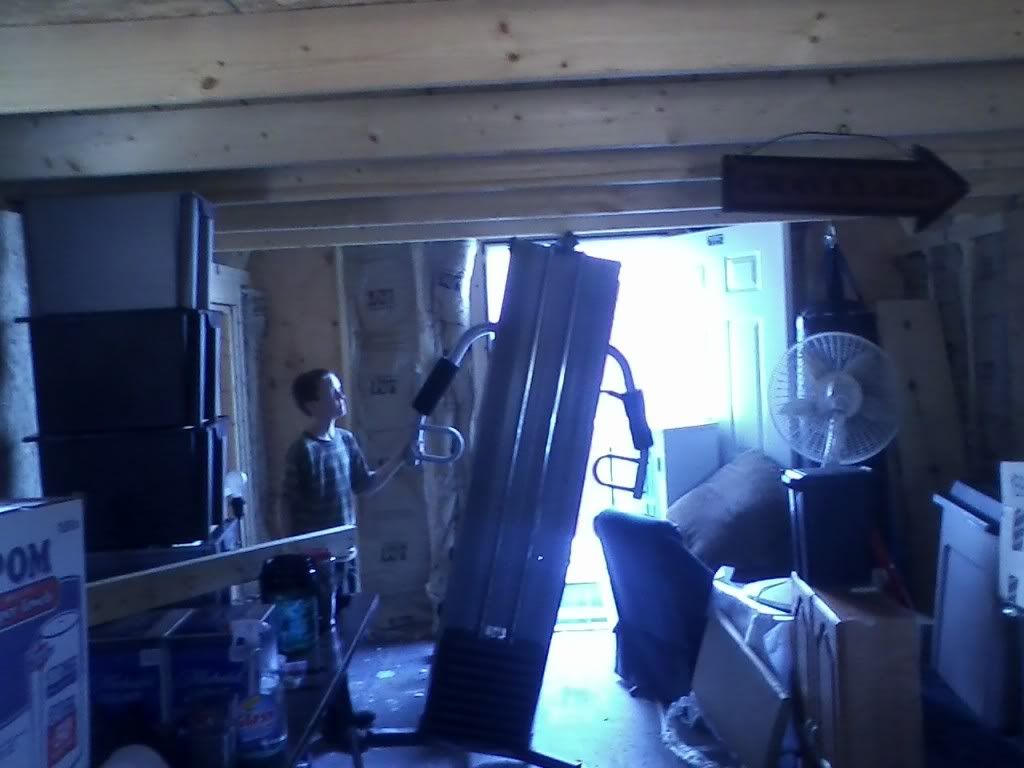 The worst part was moving the Gold's home gym, but the boys and I managed to do it. It took a while just to figure out how to do it, and we had to move several items out of the shed to make room for the journey. Clint said he was impressed we were able to do it because that thing is HEAVY!! It had to be tilted as it was moved to clear the rafters which added a special element of "fun" to the job. (I hope you didn't miss that sarcasm!) We had a time and gouged the floor a little at one point, but once we figured out how to move it, it went quickly. At least we didn't have to ask for Clint's or Brandon's help.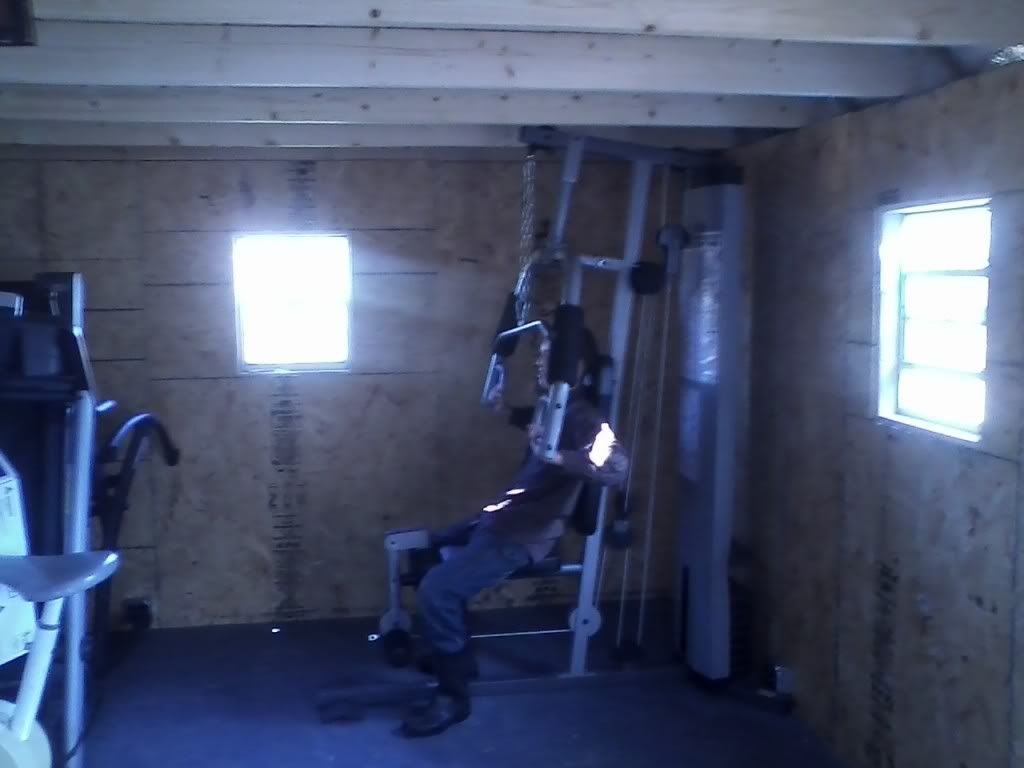 Finally that heavy sucker is in place!! Team Asbell ROCKS!!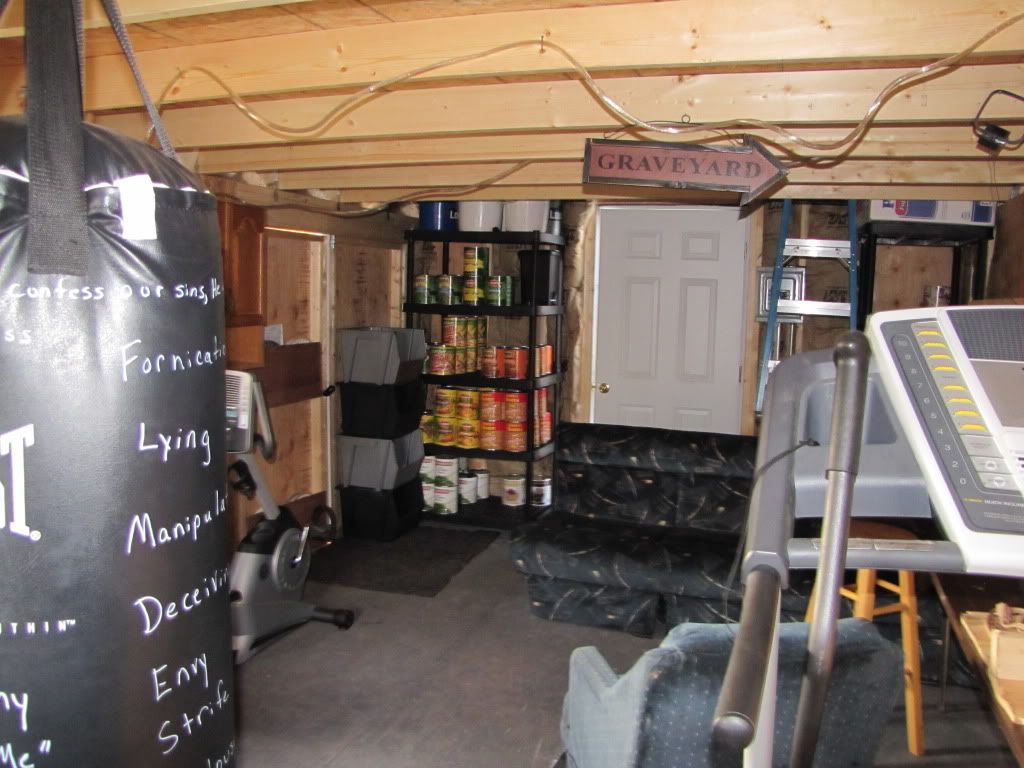 We worked from 7 a.m. to 7:30 p.m. When Clint came home at 6, he cut a hole in the side to install the air conditioner/heater. We now have two heavy duty shelves to hold bulk food storage, a sitting area, fold down bed, a writing/work area, shelving for extra storage, a workout area, and seasonal storage (loft).
(You are not drunk. The picture is crooked, and the punching bag was swinging. Time was short so I just snapped a picture quickly.)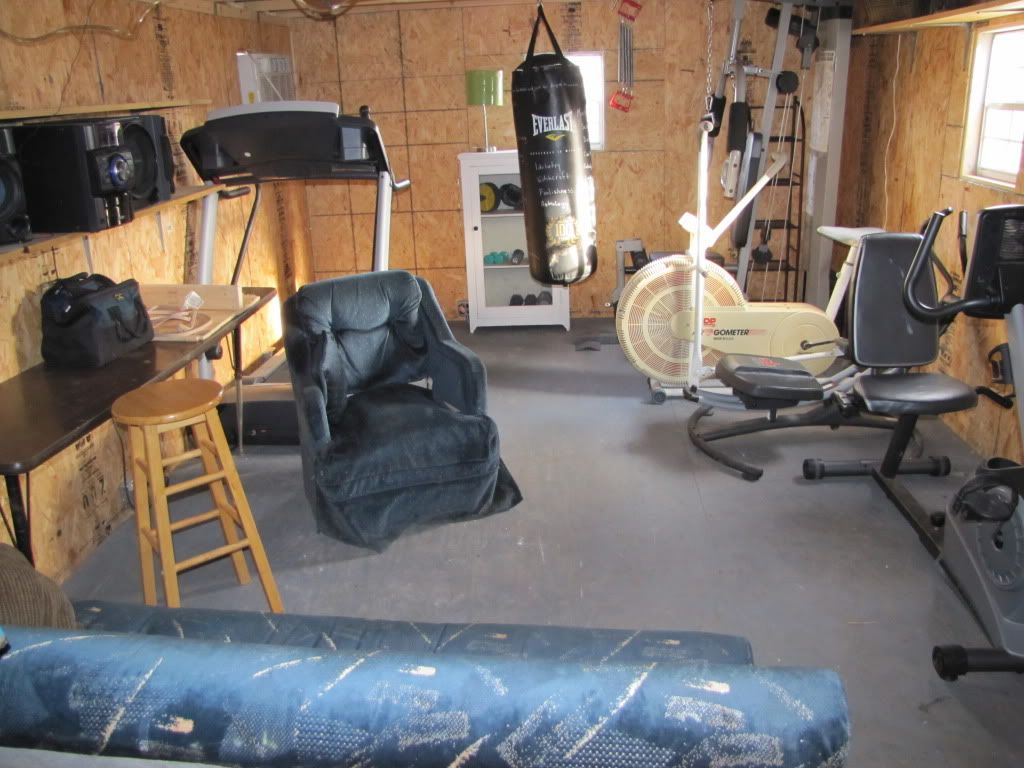 I asked Clint to cut an old school lunch table, found at auction for $5, in half long-wise. Caleb attached it to the wall with L-brackets. This gives a small writing/work space that doesn't take up much floor space. Brandon added two shelves over the desk and one over the side window. I found a brand new, small shelving unit with 5 shelves for $10. I had been looking for a place to put it. It fits perfectly behind the home gym.
No, we don't have a graveyard out back. I found the sign for 50 cents at a thrift store after Halloween. I plan on repainting it with the word "THIS WAY FOR FUN!" or something similar and pointing it at the children's play area.

The next shed up for a clean up is the children's shed where they keep their toys, bikes, and sporting goods. Clint also uses it for storage. That shed is not "functioning" well for our needs, so I need to come up with something better.