Play-Doh is a big hit with most children, but the dough has to be replaced due to drying out or sanitation reasons. When you have many children, the price of replacement dough can be cost prohibitive. The dough shaping tools Play-Doh makes are sturdy and last longer than the dough. So what's a frugal mom to do? Rather than give up and deny her children the fun of dough play, she makes her own!
This is the play dough recipe I have used since Brandon was a tiny tyke. So, I have been using it for approximately 20 years now. This is very similar to the Play-Doh brand play dough. Unlike many recipes available, this has a nice, smooth consistency that allows it to easily be used in the Play-Doh brand toys. I have never had it fail.
Play Dough Recipe
4-5 drops of Tea Tree or other germ fighting essential oil (optional)
Instructions: Mix together all ingredients thoroughly. Heat over medium heat. My stove has 10 lines from Low to High. I heat the dough at a 5.5 to a 7. It will clump first and then continue to thicken. It will be very hard to stir right before it is finished. I turn it out into a glass bowl to cool. Once it is warm, but not cold, I knead it a little to check texture. It should not stick to your hands. If it does, add a little heat.

Health Tip: The Tea Tree oil is a fantastic germ killer. Play dough is a warm, moist environment. This makes it a perfect breeding ground for bacteria. Some people can be sensitive to Tea Tree oil, so do a skin patch test on everyone who will be using it. If you do not use some kind of germ fighting essential oil, you need to make the play dough more frequently for sanitation reasons.
Helpful Hint: While I make a total of four to six batches of this recipe for my large family each time, I will only double or triple the recipe. It fatigues my wrist and hand very quickly if I do any more than that at one time.
Helpful Hint: This recipe is widely used, and some people complain about how long they have to stir. Mine takes me just a few minutes due to the higher temperature I cook it at. I stay with it and stir, stir, stir, stir quickly until it is formed, but it does not take a long time.
Frugal Tip: I have found brand new, unopened packages of Play-Doh play sets in thrift stores. I will buy these when they are at a price I am willing to pay and add them to our play dough toy collection. If the dough has the plastic seal off of the lid, I throw it away due to my concerns over bacteria.
When I make the big batches of play dough, all of my children sit down to create. Mom and Dad sometimes will too! It is a wonderful, creative activity for those long winter days when they can't be outside exploring and exercising.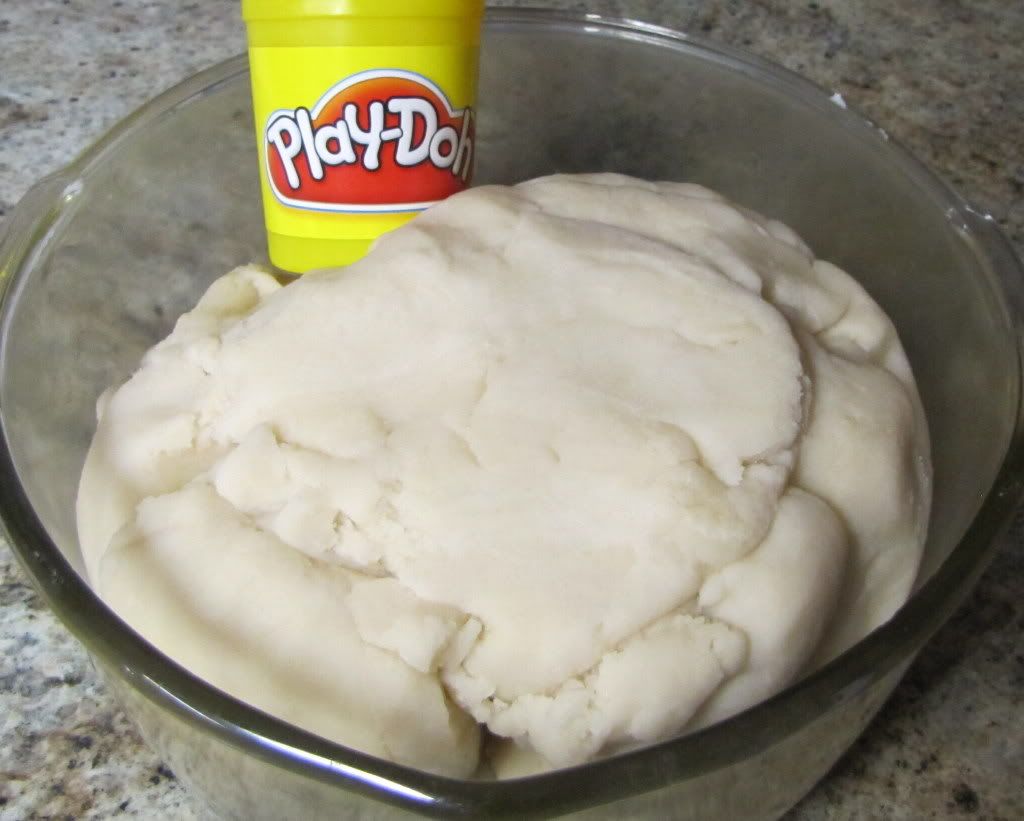 There's no need to skip out on Play-Doh brand toys due to the cost of the replacement dough. You can replace the dough with easy homemade recipes. This is a double batch of the above recipe without food coloring.