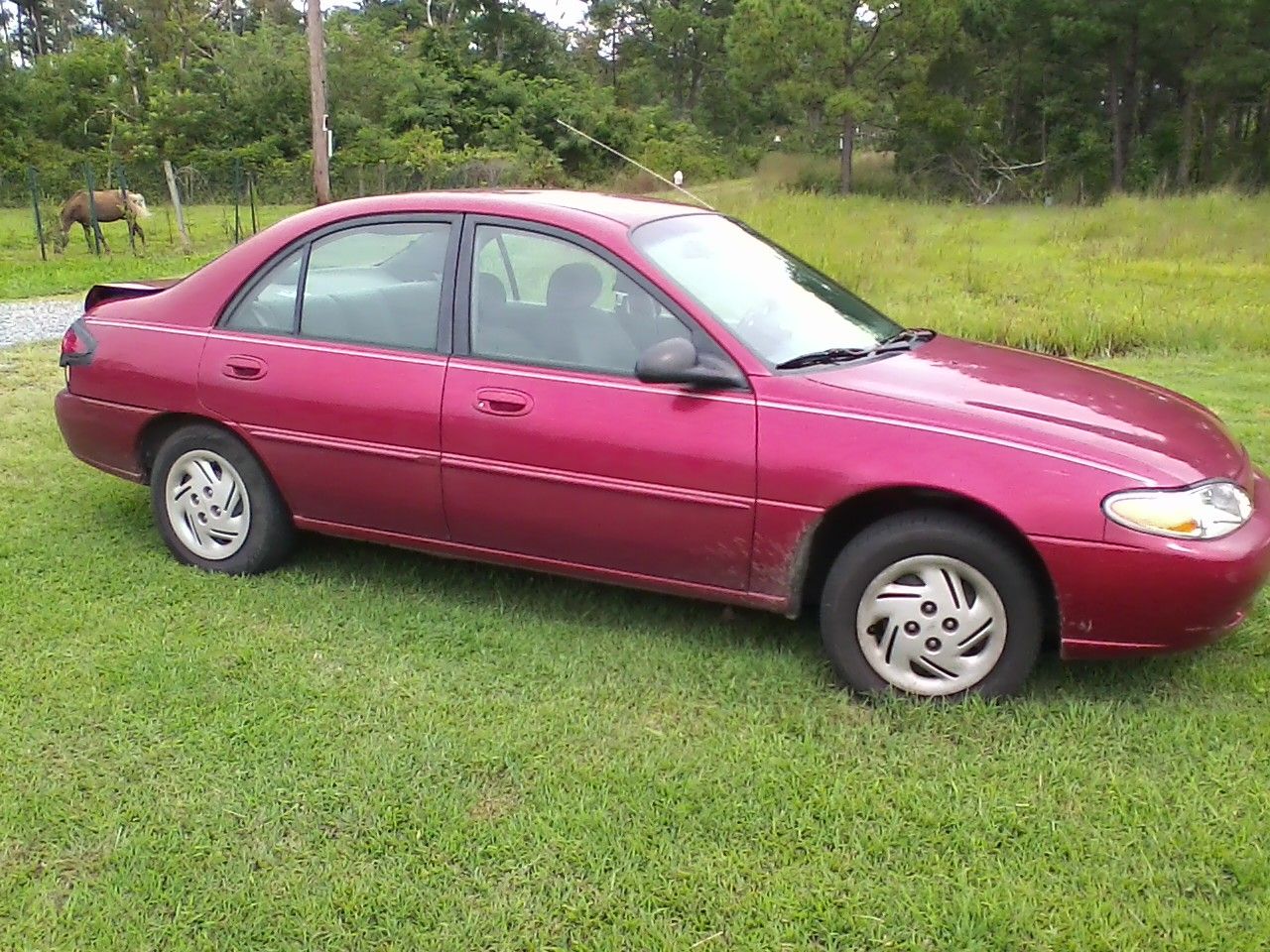 Before we buy a car, we stop and pray for wisdom and God's leading. After we buy it, we ask God to bless our family through the car. In doing this, we have had some incredible deals on cars come our way. We have also had great success with the life of our cars.
Clint bought our red Escort years ago. The previous owner had all of the maintenance records and the CARFAX on it. A company had spilled paint on the car while he was working, so the company's insurance had paid to have it repainted. He used it for business only. The inside was in great shape, and the car had been maintained on a strict schedule. He wanted to get a newer car for his business. Clint paid less than the Blue Book value on it.
Shortly after, Clint was sideswiped by a man who fell asleep at the wheel. The car received a small dent in the front left fender. The very apologetic man insisted on paying for repairs. He was very generous. Clint was given the price he paid for the car less $200.
When Amanda needed a car, she said she'd like to have the Escort. So, Clint and she worked out a deal. Amanda named the car Ruby.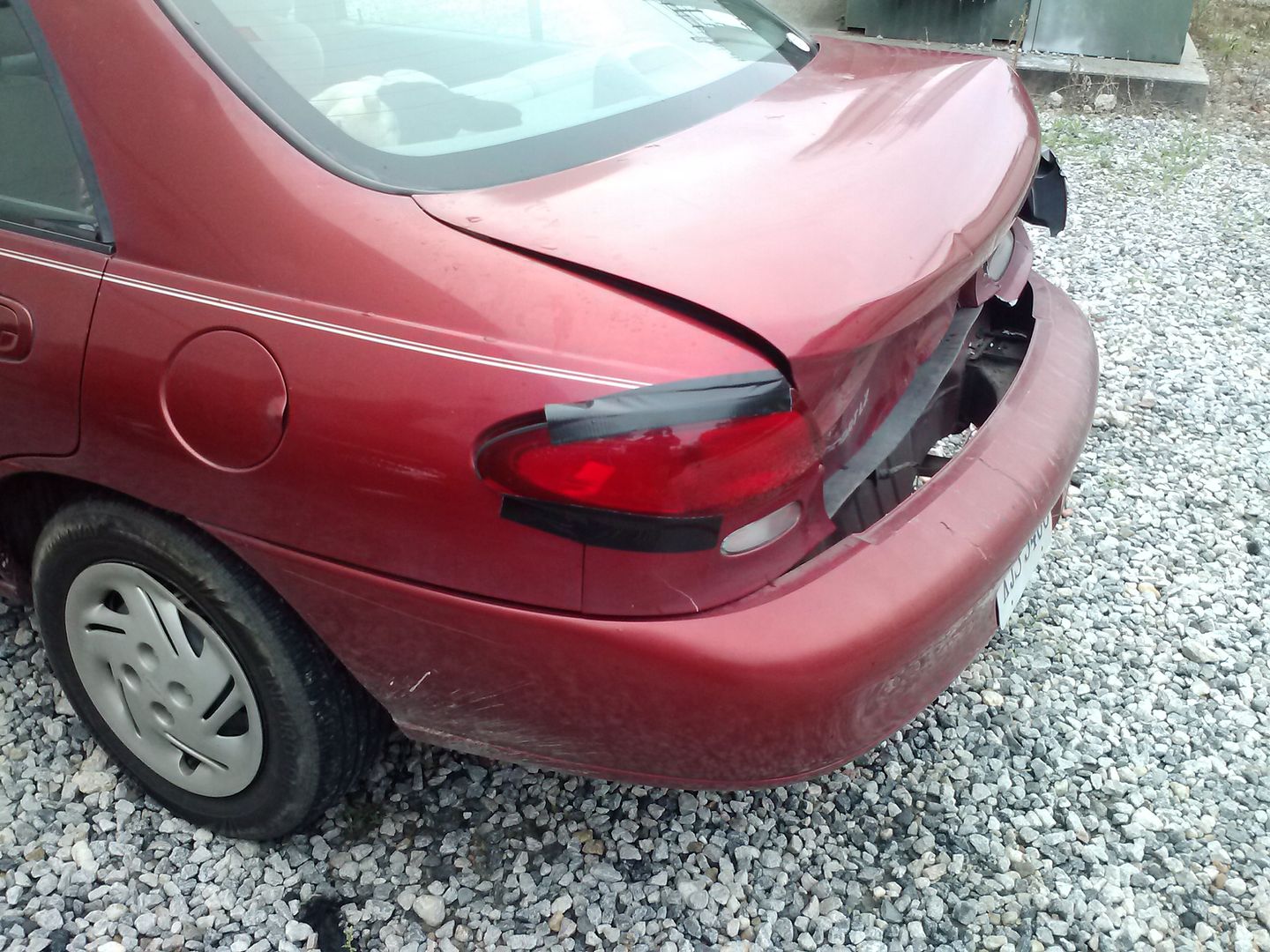 A couple of months ago, Amanda wanted the truck for a beach trip so she switched vehicles with Clint. Her car was rear ended while Clint was sitting in line at a stop light. The damage was more extensive than it appeared, and the car was totaled by the company's insurance. Somehow, Amanda ended up being paid more than the Blue Book value on the car. They gave her several hundred dollars more than Clint originally paid for it. We have looked at the numbers on the paperwork several times.
Clint bought car from the insurance company with the intention of fixing the trunk and using it as a work car. He and Amanda kept driving it and had a plan to go to the scrap yard to buy parts soon. With both accidents, even after figuring in regular maintenance, we were at a profit on a car that gave us no trouble.
On August 16, Amanda was getting ready to meet Brandon for lunch. She went to her car and came back in looking worried. "My car started, but then it cut off. Now, I can't get it started at all." I said, "OK, let's look at it and learn what we can so we can give Daddy the best information. Maybe it is something he can talk me through on the phone." I was able to start it.
Clint has wrenched on cars since I met him, and I often kept him company. I've learned a lot through him over the years. Amanda's car was making a LOUD racket I distinctly remember hearing before. Sigh. I did not want to tell Amanda Ruby was no more. She saw my face and became worried. "Amanda. Honey. I use to help your Daddy work on his cars before you children came along. I am sorry, but I fairly certain this is fatal." She said, "I am thankful it happened her instead of on the interstate."
I called Clint and told him I was 99% certain the motor had thrown a rod and asked him to start looking for a car for Amanda because she needed one asap. We have four drivers with daily commitments and were down to two cars. Before Clint left work, he had a dozen possibilities lined up. When he came home, he listened to the car and confirmed my diagnosis. Then we went to look for a car.
On the first stop, we found an incredible deal we could not pass up. Like us, the people had been through a recent loss. The car belonged to their loved one. The family had originally wished they had known someone they could give the car, but they didn't know anyone so they listed it in the paper. They touched our hearts by giving us an incredible deal at less than half of what they were asking for it and about a third of the value of the car.
Clint and I bought it as a commuter car for him.
Then, we looked at three more cars before we came across the fourth which was the right one. It is the same model as what she had with all of the added features but newer and in very good condition. The man we bought it from is a retired mechanic who buys repossessed cars to resell. We enjoyed visiting with his wife, guest, son, daughter in law, and brand new grandson and may meet up with them soon at a local family racetrack.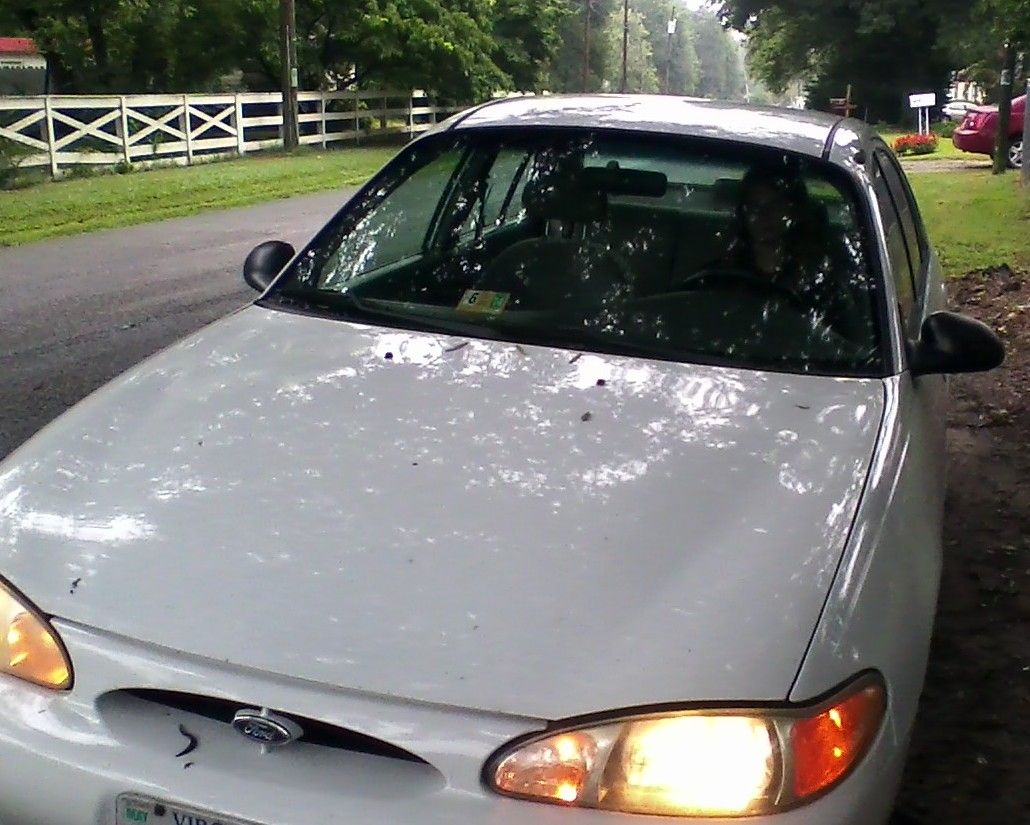 That's not the end of the story. God is still providing through Ruby. Brandon and Amanda can use it as a parts car for their cars. Eventually, Clint will scrap it which will put a little money back into his pocket. The timing was a blessing too. It happened before Clint and Amanda purchased the parts and did the work to repair the trunk on Ruby.
If Ruby had not been rear-ended, Amanda would have lost her money in the car when the motor blew. Because it was wrecked, she was given back more than the value of her car which contributed towards her next car.
All throughout the life of that humble little red Escort, we see how God provided for our family.
Philippians 4:19 And my God will supply every need of yours according to his riches in glory in Christ Jesus.