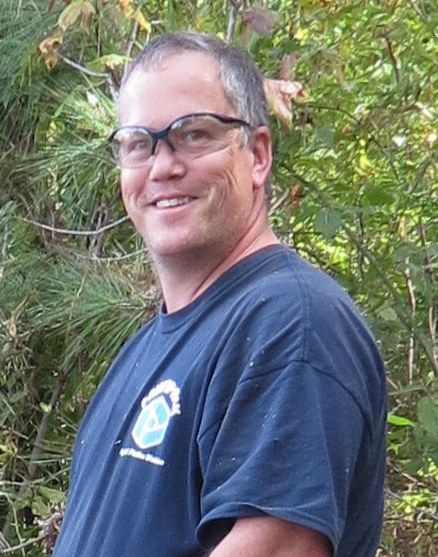 Even when it is stressful, we try to keep our attitudes in check and use a sense of humor to ease the tension. This makes it more pleasant for everyone! This picture was taken in early October while he was dealing with a difficult tree.


I was taught that if someone is doing something risky, you work in teams even if productivity is lost due to one person being there only as a safety measure. Clint saw the value in this early in our marriage and is on board with me being an extra set of eyes and ears when he does things that put him in harm's way.
If it is very dangerous,
Clint has me watch at a safe distance away while he is working. I believe in being proactive, so I keep a phone with me and think through a plan in my head for emergencies.
Normally, cutting down trees to heat our home is enjoyable for my husband. He's cut down some huge trees over the years including one that measured 78' tall! For the average guy who isn't a lumberjack by trade, that's a good sized tree!
Clint recently had his very worst day cutting down trees. It's always come easily to him;
I've never seen him struggle with it before.
It was the first time in our 20+ years of getting our own heat for winter that I was concerned for his life. It seemed every tree he went after was determined to do the opposite of what it should.
It was a very trying day on his body and my nerves!
The worst possible thing I could have done during this hectic day would have been to criticize him, unload my worries on him, or failed to do as he told me to do. If I had blamed or criticized him, I would have torn him down and eroded his confidence. When someone is having a hard day, they need us to build them up not make it worse!
If I had unloaded my worries and fear on Clint, I might have messed up his thinking which needed to be clear to analyze, diagnose, and find a solution. If I had moved from where he told me to stay, I could have distracted him and caused him to suffer injury or worse because of his great concern for my safety.
I have a tremendous amount of love and respect for my husband, so I try to look out for his best interests and do as he tells me.
I do express my concerns at the appropriate moment...once. Then I try to keep my mouth shut and take my worries to the Lord.
I also pray constantly for Clint's wisdom, skill, and safety. Ladies, make sure your worry and fears do not become an additional burden to your husband. Be wise and build you marriage.
Proverbs 21:23

Watch your words and hold your tongue; you'll save yourself a lot of grief.
Proverbs 14:1
Every wise woman buildeth her house: but the foolish plucketh it down with her hands.