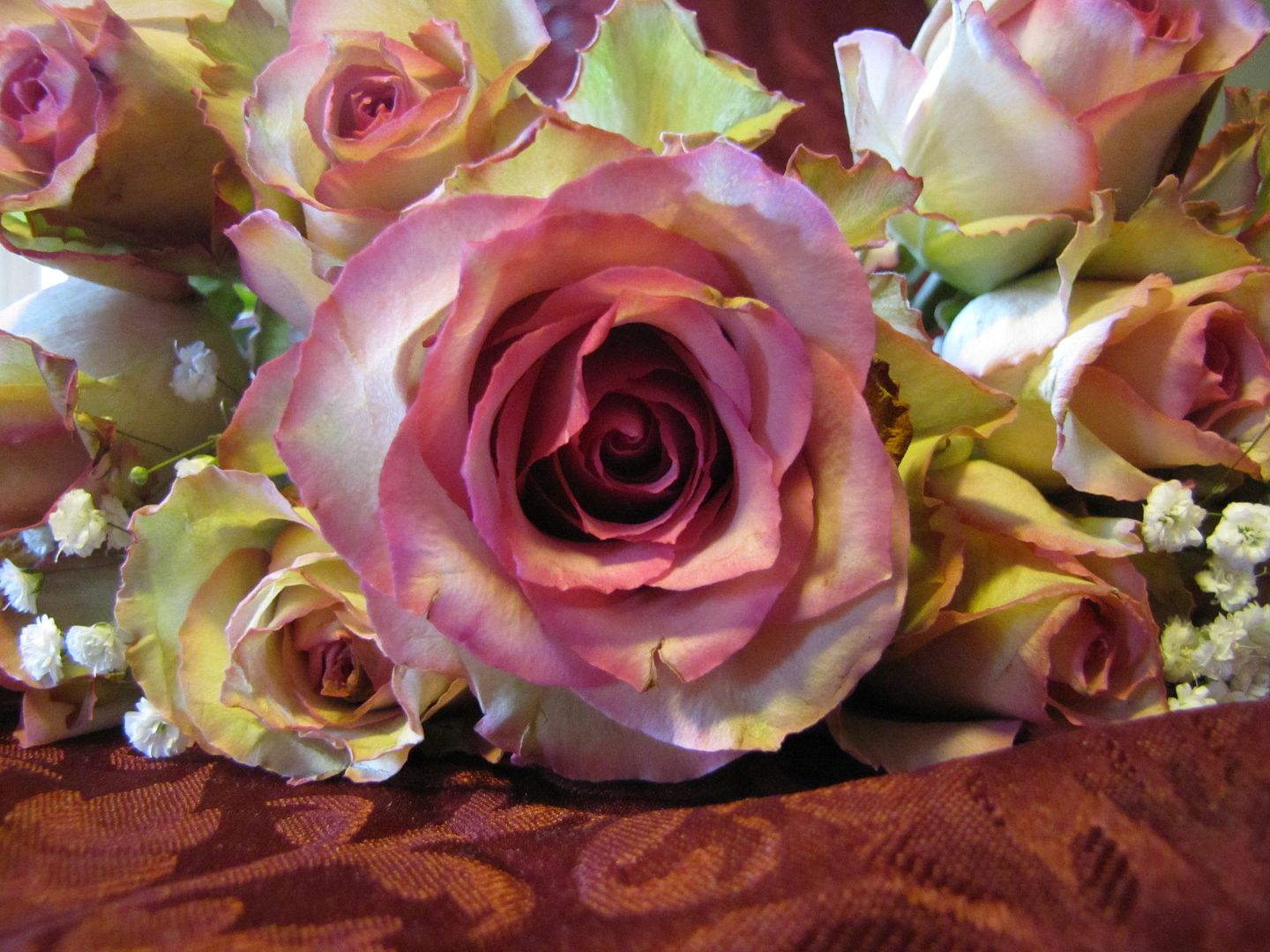 The camera can't quite capture how stunning the color is, but these roses are gorgeous. Clint gave them to me on Valentine's Day. Because we were surrounded with the deaths of family and friends, we plan a do over for our Valentine's Day at a more appropriate time. Still, our Valentine's Day was quietly special.
I was once again reminded that I am blessed with a man of godly character who is loving and generous. Even when he is hurting, he still puts his family's and friends' needs first. He will sacrifice time, energy, money, and his own needs for others. I have painfully watched him work in the rain while bleeding, cold, hungry, and sick saying "They need this done. Just a little longer." He is the most godly example I have ever seen in a human being.
If you heard Clint's complete story, you would expect a hardened, angry, distrustful man. It is because of his willingness to seek the Lord in the midst of
the hurt, rejection, abuse, and betrayal of those who use to be closest to him
that he became an amazing man with a powerful testimony. He sought the Lord every step of the way, and the Lord gave him the power to not only overcome, but to stand victorious! Clint is a man who is much admired and respected. His friends know if they call upon him, he will be there. I have had men tell me, "Wendy, that man you have is as good as gold. He is the real deal."
Our Valentine's Day wasn't romantic by the world's standards, but it was romantic in that my love and respect for this amazing man grew deeper. I love my husband more because he is always, always, always there for others night or day. He listens to hearts without judging or condemning. He sees past the pain in the moment to hear a person's real heart. He patiently waits for them to realize what he, through the wisdom of the Lord, already sees. Even when they don't want to hear it, he continually points others to the One Who has all the answers.
This Valentine's Day, I realized part of what makes him so unique. When I realized it, I fell head over heels in love again...with the Lord and my husband. Clint sees through the many imperfections to find something worthy and beautiful in each person. In that, he reflects an image of God's love for each of His children. God sees past your ugly to your beautiful. God found you worth the sacrifice of His own Son. Aren't you thankful for that?
Romans 5:8
But God commendeth his love toward us, in that, while we were yet sinners, Christ died for us.