The cheapest 18" doll dresses start at $10 each with the nicest looking being around $25. I have three young daughters interested in the 18" American Girl and Madame Alexander dolls, and they love the clothes. I had to get creative and find a better way to dress their dolls. I am hoping other mothers can get a couple of tips on how to save money and encouragement to try sewing with their daughters.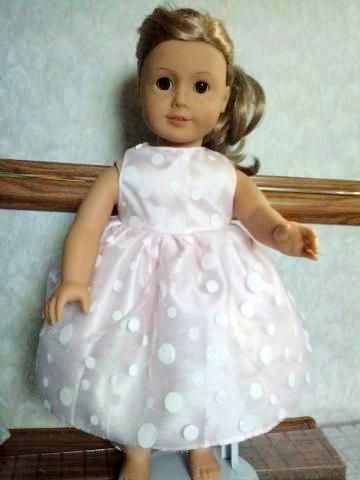 I made this dress from a $1.98 0-3 mos infant dress found in a resale shop. It has a layer of netting, fabric, and then the ruffled under-layer. I cut the bodice off, cut part of the skirt width off to make a new bodice, and sewed it back together. It took about 20-30 minutes to make.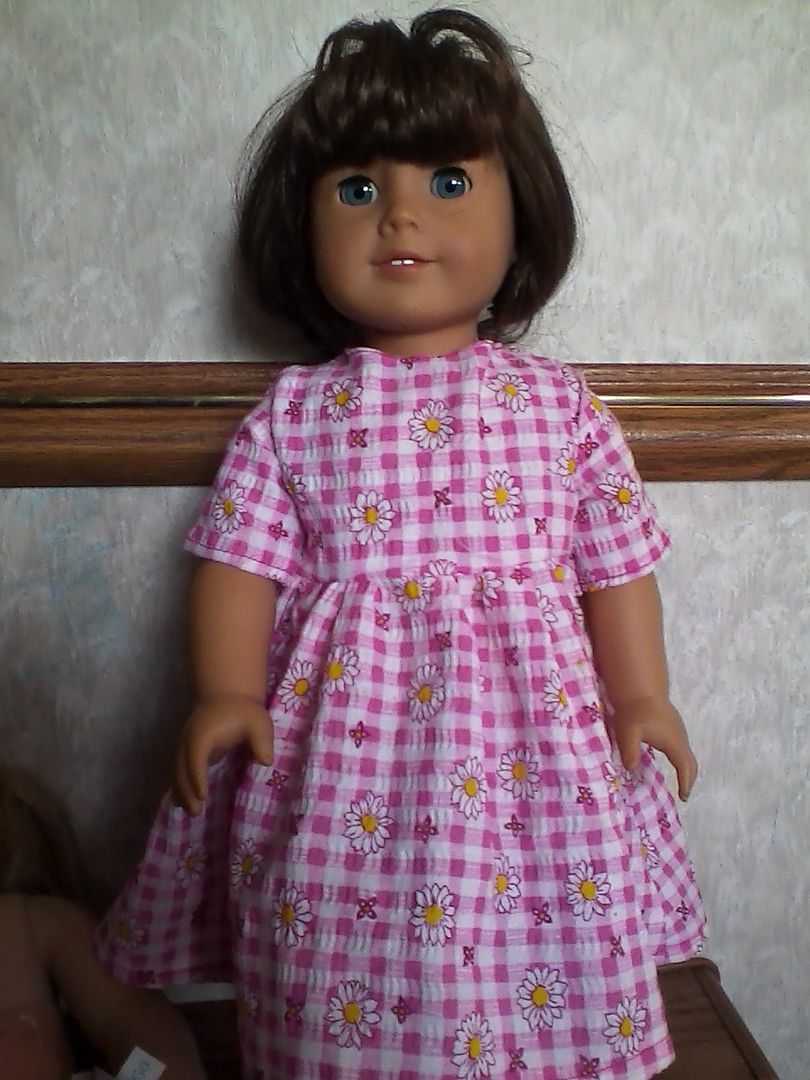 I made this from a fabric remnant from years ago. Free.
I was going to add a ribbon tie at the waist, but the girls took the dress to play with it! This is one we made together.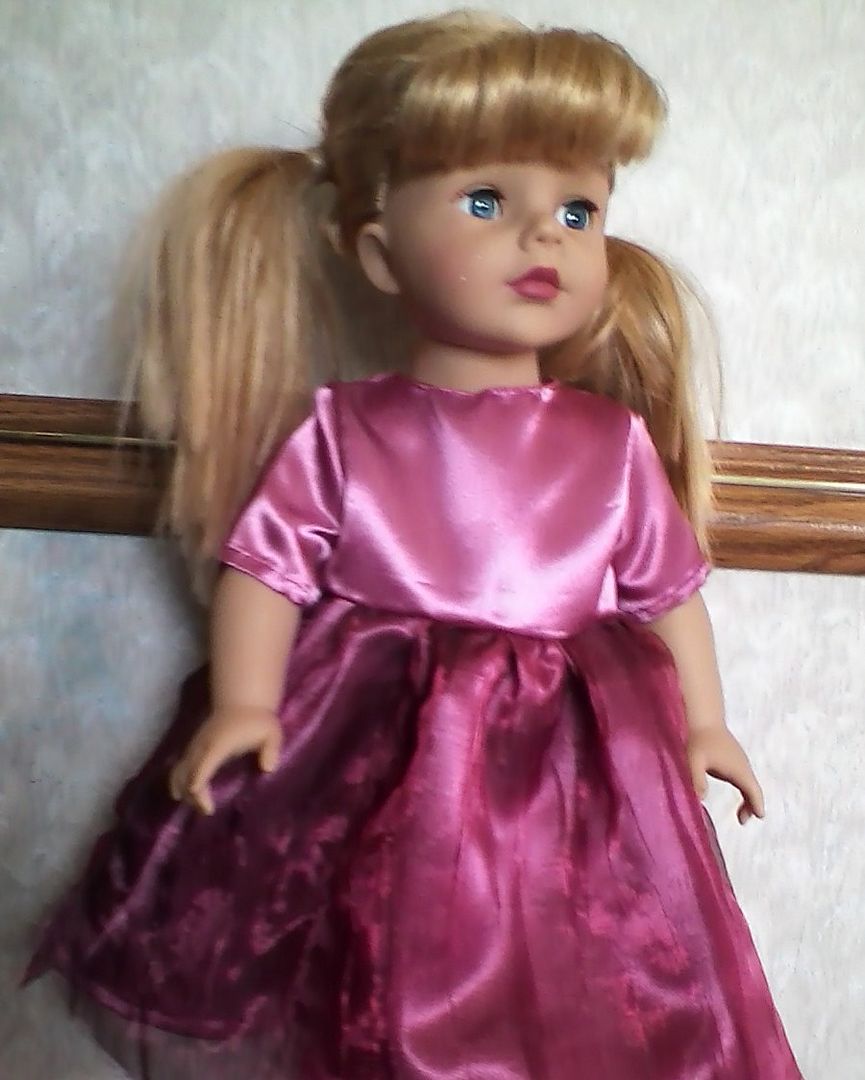 I made this dress for 25

¢ or less

from remnants bought from a resale shop.
This one was free. I had the remnants. The dresses are the same basic, easy to sew pattern. This has been put in the basket for gift giving.
I found these hats in a resale (thrift) shop for 6 for $1.98. Normally, they sell for $1.47 each. I added trim scraps. I bought the pink flowers 8 for 97

¢

on sale at Joann. The large purse was made from ribbon scraps and a free zippered bag that came in the mail holding samples.
The remnant cost 50

¢ at a resale shop. I made 6 pairs of shoes, covered a couch for the dolls, and have enough leftover to make a few more pairs of shoes. Shoes for the dolls can be $5 and up. It cost me about 25
¢ per pair to add the decorative touches. I found those on sale in multipacks.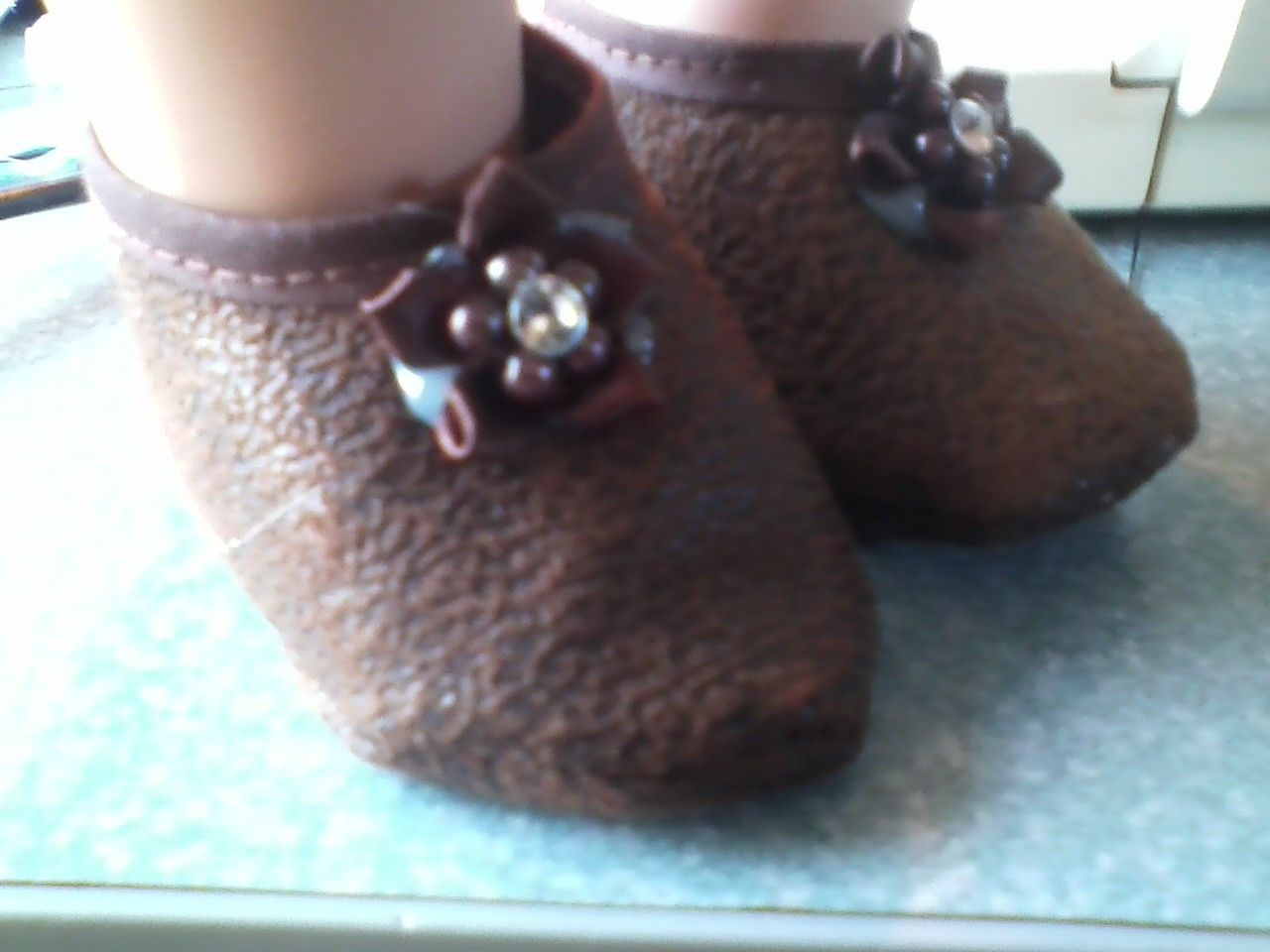 I made 6 aprons with a pair of potholders and oven mitts each for only $7 in bias tape and $2 in trims (ribbon flower). I had some bias tape left over. The fabric was in a vehicle we purchased years ago.
I made these doll underwear from a free online pattern using material we were given. The bows I made myself with left over ribbon.
This is a vintage doll pattern I purchased when the McCall's patterns went on sale for $1. That happens at certain times of the year. Ask the ladies in your fabric store when the best time is to buy them. The fabric was 1/3 of a pack of 6 coordinated fabric quarters I purchased for $6. The ribbon trim was leftover from another project. Bethany picked out the fabrics to replicate as closely as we could the one on the pattern cover. I think she did a good job.
I also save fabric, trims, buttons, and zippers from dresses and clothes my daughters have outgrown. These cut down sewing costs and end up being cute on the dolls. We have the memories of the girls wearing the clothes and the memories of the girls and I sewing the clothes together and putting them on the dolls. We'll save the dolls and the clothes for their daughters.
For the dress closures, I used either pieces of 99

¢ sew in

Velcro

pieces or leftover zippers.
By time this gets posted, I should be well on my way to having birthday and Christmas presents stockpiled.