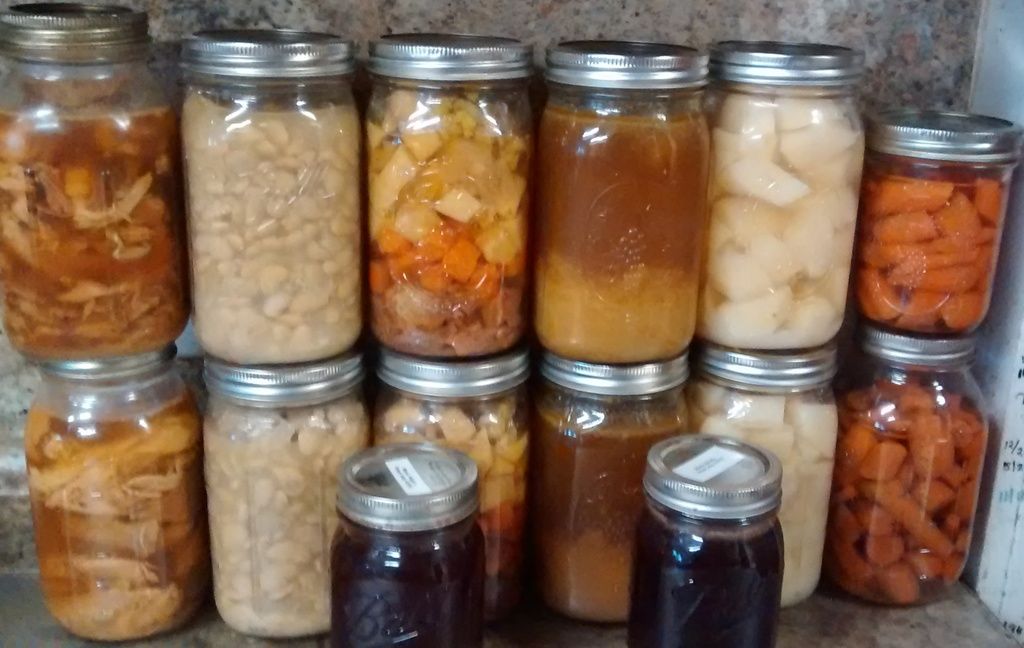 a tiny sampling from our pantry
"Wendy, what in the world are you canning in the winter?"
Even when life happens, people still need to eat. A lot of women, including myself, prepare "freezer meals." These made ahead meals are ready to cook or reheat so they can feed their families during busy days or illness.
I love having meals ready to go in the freezer, but I like having them on the shelf in pressure canned jars even more. Pressure canned foods are good for a longer period of time and do not need electricity to keep them. The quart jars only need to be heated while the frozen foods need to be thawed and cooked. The time from when I pull a meal from storage to when I set it on the table is considerably less.
I bought the canning jars to preserve food to save our family money on groceries. If the jars are sitting empty on the shelf, they are not working. As the jars empty in the spring and summer, they get refilled with produce from our garden. This keeps them in constant use which means I am continually benefiting from the investment I made in them.
I can chilis, soups, roast beef, many types of beans, vegetables, meat, and gourmet quality bone broth (stock). Pressure canning the dried beans saves me a tremendous amount of time and a good bit of money. I just pulled our farm produced pork and poultry from the freezer and canned it so I can make room for a side of beef we hope to purchase in an effort to further cut our grocery bill.
I can in both quart and pint sized jars. The pint sized jars are great for individual servings and are much better for my family than store bought canned foods. My husband and children take this size for lunches at work. It is very rewarding to see them carrying a box of my canned meals to their car for work.
People say canning takes a long time but most of that time is waiting. I
easily fit in many other things while I am pressure canning. I enjoy it because I challenge myself to get the chores done before the canner is finished. A canning day tends to be a very productive time for me! Then there is more time saved than spent when I simply pull the meals from the shelves.
When a friend or family member is sick or going through difficulty, pulling jars from my storage is a great way to minister to them through a hot meal. The meal can be left in the jars for use when needed. This has always been well received.
Preparing meals ahead of time saves our family a lot of expense. Calling a pizza place for our family is a $80-130 without tip, and it is a meal I consider as "subtracting from our health." I have good, healthy meals without artificial colors, preservatives, or high sodium ready to go. Trying to avoid waste and making good use of what God has provided takes time and effort, but it has multiplied our foods stores and help to make having seven children very affordable. A little at a time adds up to a lot in the long run.