Caleb with his IV ball. He likes to hold it up hoping it will make it run faster.
Update 10/16/2013: Caleb's PICC line dressing was changed by in home health care today. His temperature was normal. He weighs 69.4 lbs on our scales which I noted are about 3 lbs lighter than the hospital's. That puts him having gained about a pound since he's been home. He is still tired a lot, but that is normal considering everything that has happened to him. He has another dressing change next Wednesday along with a blood draw. His blood work will be sent to the hospital overnight. Next Thursday, we will go to CHKD, get the results of the blood work, and see where we go from there. If his blood work shows the infection is gone, his PICC line will be removed. If not, he will have another 10 day round of antibiotics. Caleb's parents are finally catching up on sleep and feeling normal again. Thank you to everyone who has been praying for and asking about Caleb. He appreciates all of the cards, balloons, and gifts. We are looking forward to seeing some of you this weekend! He's also wanting to go shopping with the spending money he's received.
PICC dressing change by Nurse Judy
Update 10/17/2013: Caleb asked us to take pictures along the way. I will post a few of those tomorrow. He weighed 71.2 pounds this morning. Clint and I have him on a 6-2-10 schedule for his Zosyn. I will try to get pictures of what we do at home for him and post those soon too. It's busy here...I am trying to catch up on what fell behind and keep homeschool moving forward too. Caleb is looking forward to seeing everyone this weekend.
11:27 a.m. This is the email I sent out a little while ago to our family, closest friends, and prayer warriors:
Caleb is looking and feeling better. The brightness in his eyes is back! His PICC dressing was changed yesterday, and he received a mini check up. His bp and temp are back to normal. Those are good signs! He has gained a little and is up from 69.4 yesterday to 71.2 today. He is still very weak and feels temperature changes quickly. He tires out very easily which is normal. I've set him up in our travel trailer for day time naps. Joshua sleeps downstairs beside him because Caleb can't manage the bunk bed right now.
Due to the appendix rupture, Caleb had an infection throughout his abdominal cavity. This started before his appendectomy. Later, it spread from where the appendix burst all the way to his left side. It was drug resistant e. coli, which is why the Augmentin did not work when they sent him home the first time. They tested the yuck they pulled out of him when he had the drain installed, and it gave them this info. The test they ran on his appendix did not reveal cancer or other reason for the appendicitis. We assume the virus that hit Bethany first affected Caleb's appendix.
He finishes his antibiotics next week on Wednesday. He will have a dressing change and mini check up as well as a blood draw then. The blood work will be sent to CHKD. Thursday afternoon, we will take him back, and they will give us the results of the blood work. He will either get sent home with another round of PICC antibiotics, or he will have the PICC removed. We are thinking it will be the latter. When the PICC is removed, we will have to watch for signs of recurrent infection like we did last time.
Caleb was in CHKD 10 days with a day home in between. He was sick 3 days before his appendicitis, and had a 10 day PICC therapy after the second discharge. It's been a long haul, but I think we are near the end. Thank you for the love, prayers, and concern.
Update 10/19/2013:
Caleb had the drain removed a week ago. When it was removed, the pain was excruciating. The surgeon kept saying it shouldn't hurt that much, and said he didn't know why it was. When he got it all the way out, he learned his instructions for its installation had not been followed. They had put a loop on the end of it. The loop was larger than the hole it had to pass through out of his body. The surgeon apologized to Caleb profusely and then ordered the strongest dose of morphine Caleb could have to be given to him.
As instructed, I check Caleb's former drain and incision sites every day for tenderness and other signs of infection. Today, there was a change.
He has a green bruise the size of a quarter and a lump under the skin in between the two places. We were able to contact a few friends for advice.
One of them is a PA and feels this is inflammatory tissue, but he is not sure why there is bruising a week post removal of the drain. He said maybe that is a hematoma. Our friend Judi has worked as a wound nurse. She consulted with a veteran nurse, and they both concurred that this could be a hernia in the abdominal wall due to the history of the drain removal or some tube could have been left behind. She said that since he is on antibiotics, it is fine to wait until Thursday when we see the surgeon, but we should definitely follow up.
We ask that you pray whatever this is will resolve itself without Caleb having to have to endure more pain. Thank you! (Caleb's weight was 71.6 and his energy level is higher today. I am letting him "push" his saline flush into his PICC site to give him a little more control over what his happening to him. He and I went for a nature walk together.)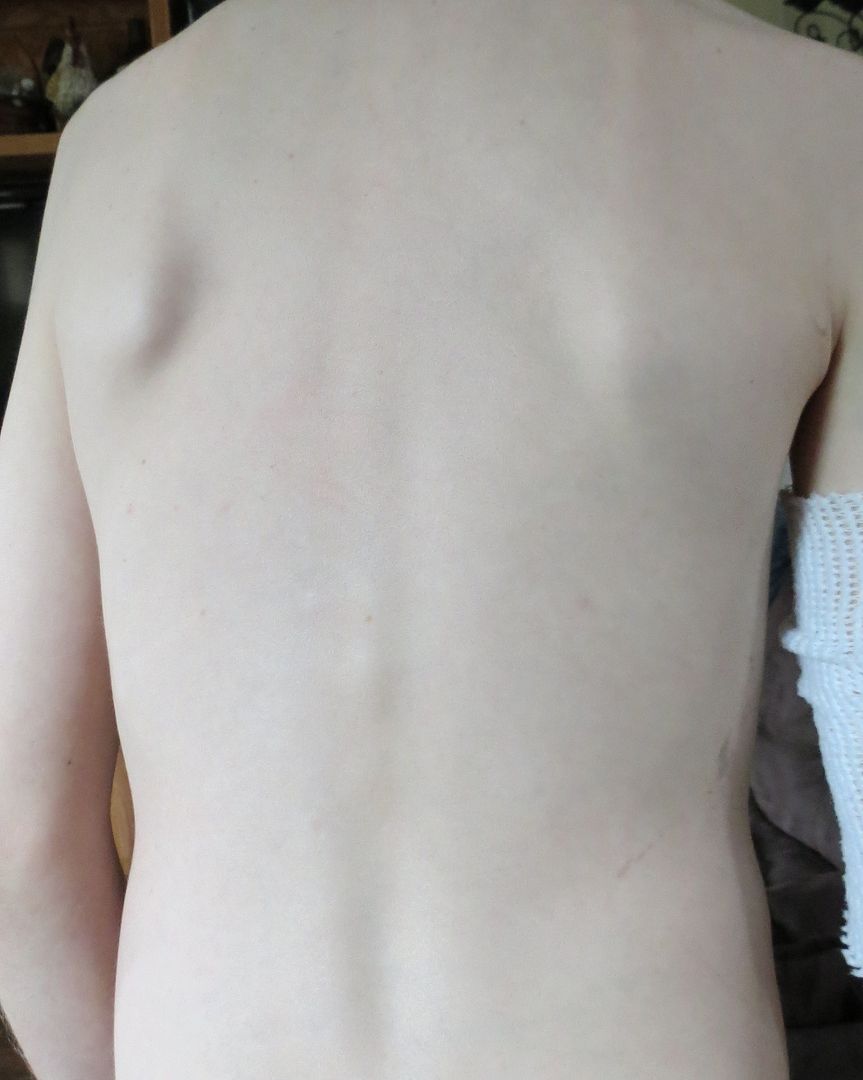 taken 10/19
Just a few pounds has made a big difference in his appearance.
Update 10/20/2013: Caleb weighed 73.6 lbs this morning. That is a +5 lb gain since his surgery.
Update 10/21/2013 10:26 a.m.: Caleb has been having a slight pain in his back. At first, we thought it was from how he slept. Today, it has increased to a 4 and is stinging too, so we are en-route to CHKD to find out what is going on since the pain is in the area of his PICC line in his chest.
Update 7:14 p.m.: We are home. Caleb has a small pocket of infection in his abdomen. They think that is causing the pain around his shoulder blade because pain in the abdomen can radiate and turn up in weird places. He had a long, painful ultrasound which showed the pocket near his intestines. They are taking a wait and see approach on the area of fluid. We are to keep giving his antibiotics and will go back on Thursday for a reevaluation. Thank you for the calls, emails, texts, voice mails, offers of help, and especially the prayers. Caleb is very relieved they didn't admit him! We live quite a distance from the hospital, and the traffic was really backed up. Clint and I are exhausted! Clint is more tired than I am because he had to work long hours (30) over the weekend. We are calling it a night.
Update 10/22/2013 3:30 p.m.: We just cancelled the appointment with home health care for tomorrow. He just had three tests run on his blood last night to check for infection. We can't see putting him through another lengthy dressing change and another risk of infection if they are going to remove the PICC tomorrow. If they don't remove the PICC, they can change it there. We called his surgeon, and he agrees with us on this. We are happy we are able to save a little bit of trouble for Caleb!
Update 10/24/2013 11:24 a.m.: Caleb left half an hour ago to make his 1 p.m. appt. He was "off" this morning, but I couldn't get him to tell me why. Then I thought about how they have told him twice that a procedure would not hurt, but due to mix ups, he ended up in a lot of pain. After that, I'd be apprehensive too! We watched some Youtube videos of PICCs being removed, and it reassured him. I stayed home with the younger children so I could catch up on some of the work that has fallen behind. We are expecting good news!
Update 10/24/2013 4:00 p.m.:
This was one of the tougher trials we have seen from a parental perspective. Not only did Caleb need lifesaving surgery, but he had a secondary infection grow worse mere hours after he was released the first time and while he was still on antibiotics. That was frightening! Here's the good news:
Caleb's surgeon said t
he sudden lump with bruise, which we had been told could be a hernia or area of infection, was only where the drain line was healing and will go down with time. He also said the areas on the ultrasound may be infection, but might not be. Caleb does not show any other signs of infection, and has been on antibiotics long enough that the surgeon is not concerned with it. The body will clear those areas up. The pain in his back that we were concerned with being due to the PICC or Zosyn (it's a complication of both) Clint and I concluded was due to him being laid up for so long and then using those muscles again. The abdominal pain that upset the ER and received a lot of testing, the surgeon calmly said is only the normal pain of healing.
Everything looks good, so they pulled the PICC out.
The only thing we have to worry with is if the body grows scar tissue on the intestines. If that happens, he will vomit a lot like he did with the appendicitis, and he will need to be examined. That is very unlikely of happening, so I think we can close this chapter. Caleb is on limited activity for the next week, and then he can do as he pleases after that. Thank you to everyone who prayed, stood beside us, and encouraged Caleb. (No more trips to Norfolk...yay!!)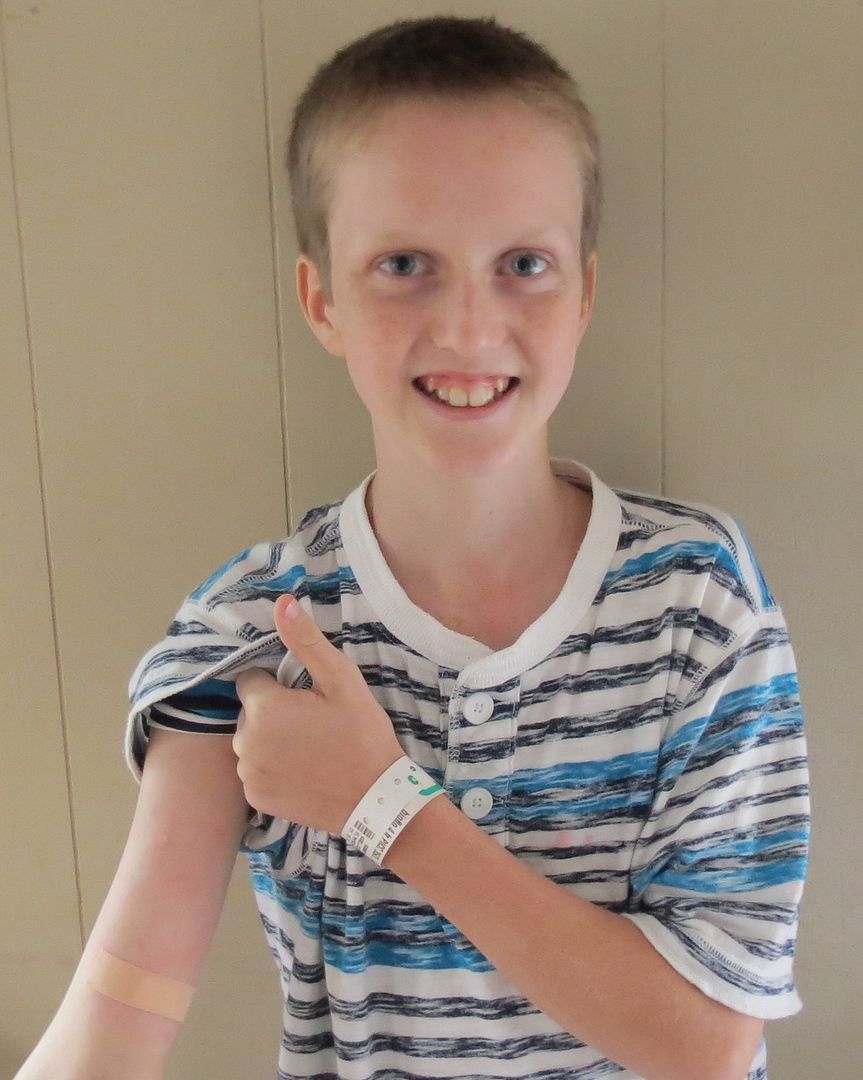 Look Ma, no PICC!!
Romans 8:28
And we know that all things work together for good to them that love God, to them who are the called according to his purpose.