10/9/2013: Caleb has been rushed back to the children's hospital in our area.
He seemed better this a.m. He was told he could take the stairs, so he went upstairs to watch TV in my room. Later, he came downstairs to hang out with the rest of us. Brandon carried him because he was hurting. After a while, he started looking paler and seemed very tired. I moved him to a quiet room and gave him the pain reliever the Dr. prescribed. He slept 6 hours. When he woke up, he was in greater pain and running a temperature. He had tenderness in his abdomen with rebound pain. Those are signs of an abscess forming.

Caleb has lost a great deal of weight since this began about 10 days ago. He looks very, very thin. He was already lean because he had just gone through a growth spurt. He is 12 years old and now weighs only 68 lbs. That makes things much harder on him.
I made the tough decision to stay home with Emily and Hannah who need their parents too. Hannah is running a temperature. It is very difficult to run our family, home, and farm from two hours away. It was agonizing being in the hospital with Caleb not knowing how things were going at home. Equally, it is agonizing for me to be home with Caleb in the hospital now, but Clint is better able to navigate the roads than I. Amanda went in my place to keep watch over Caleb. I know she will make sure he is never alone and every need is met.
We are trusting the Lord and hanging onto His promises. Still, it is a very difficult place to be.
Please pray for our son and our family.
For family and close friends:
PHONE #s REMOVED.
Update 10:15 p.m.: Doctor believes it is an intra-abdominal abscess. This could mean another surgery if they can not access the site with a needle. They have started IVs, ordered a CT, and are doing blood work.
Update 11:19 p.m.: While he waits CT results, he is watching Finding Nemo.
Update 11:55 p.m.: Blood work results show his white cell count is higher than when he left Monday. This is indicative of an infection. We are still waiting the results of the CT scan.
Update 10/10/2013 1:37 a.m.: The surgeon spoke to Clint and said the radiologist saw an abscess on CT scan. He (surgeon) is going to go look at it so he and Clint can discuss it. He said they may be able to treat with antibiotics.
And, you know how you always wonder if you are doing the right thing when you make a tough decision? Well, it's a good thing I stayed home. Emily needed cough medicine to rest. And, our left field is flooding. The horse is jazzed up to the point he might try to run through the fence, but otherwise safe. I might need to move some dogs so they don't get wet feet or worse. I am monitoring levels every 10 minutes. I am going to keep praising the Lord for His goodness. I am in a storm (rising river from the Nor'Easter), inside a storm (Caleb's post appendectomy abscess), inside of the first storm (
Caleb's emergency appendectomy)
, but God is good and worthy to be praised.
Isaiah 43:1-2
But now thus says the Lord, he who created you, O Jacob, he who formed you, O Israel: "Fear not, for I have redeemed you; I have called you by name, you are mine.
When you pass through the waters, I will be with you; and through the rivers, they shall not overwhelm you; when you walk through fire you shall not be burned, and the flame shall not consume you.
Update: 2:06 a.m.: Caleb has been readmitted to the hospital and started on IV antibiotics. Clint still has not spoken to the surgeon.
Update 7:30 a.m.: Caleb has two areas of infection in his abdomen. Right now, they are thinking they can drain them with a needle or treat with antibiotics only. A team made up of a special radiologist, his surgeon, and a surgical team are going to discuss it. We should hear more in approximately two hours.
Update 10:27 a.m.: I am getting ready to update the blog asap. I have to tell our inner circle first out of respect for their place in our lives.
Update 12:19 p.m.:
Caleb had an emergency appendectomy on the 3rd. He had a ruptured appendix with "a very nasty infection in his abdominal cavity." He was in the hospital on surgical grade antibiotics until the 7th. He had been without fever for a few days, so they thought they had wiped out the infection. They sent him home with lighter antibiotics and pain meds.
Last night (9th), he was very pale, fatigued, and had pain in his abdomen with a low grade temp. We got him back to CHKD.

They did not get all of the infection. He was readmitted, given a CT scan where they saw 2 abscesses, and was put on the same surgical grade IV antibiotics. 20% of appendectomy patients require further treatment for infection.
The dr, surgical team, and interventional radiologist met this a.m. They looked over the CT scan again and found another abscess making THREE total. Two are smaller. One is larger. The smaller ones look like the can be handled with the surgical grade (very strong) antibiotics. The larger one needs to be drained so Caleb will heal faster. If left alone, it could delay his healing by weeks to months. They will drain it with a needle through his abdomen while he is mildly sedated. They will use an ultrasound to do the needle drain. Risks: puncture something besides abscess, infection, issues with sedation
After that, while he is still sedated, they will install a PICC line to deliver the surgical grade antibiotics. They have to do this because the weaker vessels used in a normal IV will not hold up to the strong antibiotics for that long.
Then, he will have to be monitored in the hospital for a while to make sure he can handle the antibiotics and to see if they improve his condition. If he can handle the antibiotics and they see improvement, they will allow him to come home with the PICC line. He will then have in home health care for 2-3 weeks or longer as necessary.
About the serious weight loss, after my and Clint's request, they are going to do a consult with a nutritionist to see if they can slow, stop, or reverse the weight loss he is having. He is down to 71 lbs.
(same hospital scale that read 74 when he was discharged, home scales say 68)
To put it in perspective: He is 12 years old, and his 10 year old sister weighs the same as he does now. Skin and bones is an apt description.
I do not know yet when the procedure to drain the abscess and install the PICC line will be.

Update 1:28 p.m.: They do not have enough people to coordinate the PICC and the drainage of the largest abscess at the same time today or tomorrow, so they are going to do them independently. That means Caleb will have to be sedated twice. The PICC is due today 1:30. Drainage tomorrow sometime. Caleb can eat again after the PICC is done. No idea when the nutritional consult will be. We have a sweet friend who is very experienced and has offered to help us with the PICC when Caleb comes home. We are trying to come up with a way to get Amanda home and leave the car with Clint so she can resume work and school. Caleb is going to enjoy the gifts that have been sent to the house when he gets back home.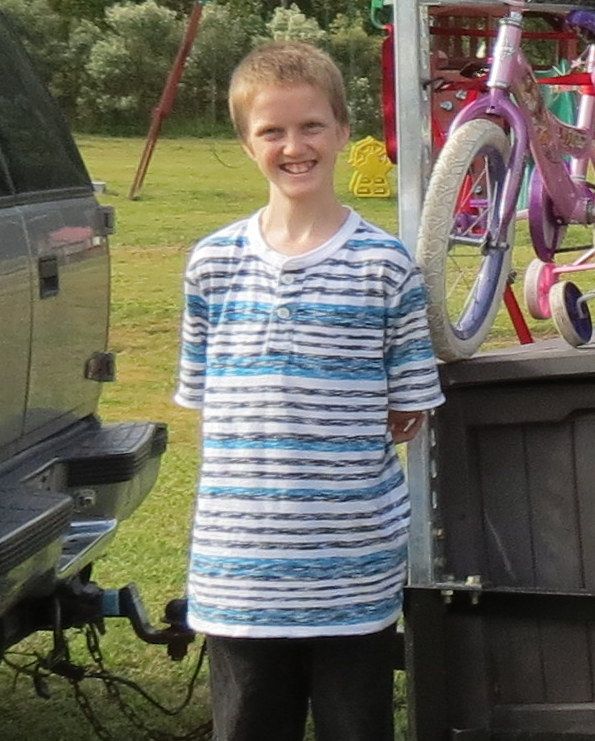 Caleb on the 28th just 12 days ago.
Caleb today
Pray with us that the hospital will listen to our concerns about his weight this time and that something will be done immediately to stop his decline.
Update 3:18 p.m.: PICC line installed: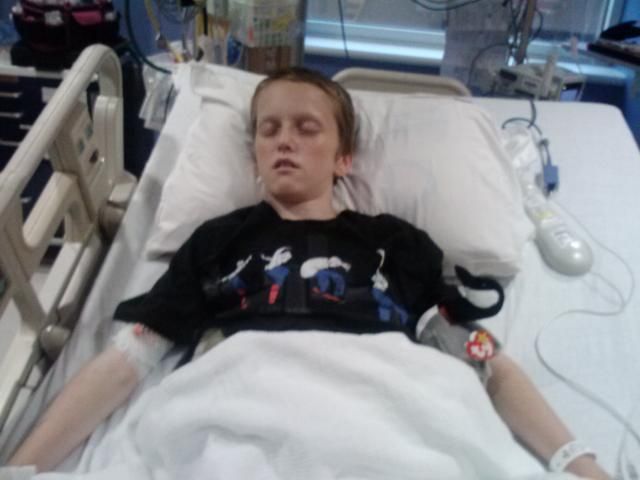 The hospital gave him a goose, a nap, and ...